Features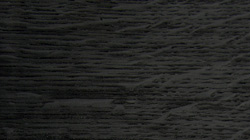 Environmental friendly, unique technology;
Color - throughout all the thickness;
12% higher oak density;
High resistance to abrasion.
100% natural - no ammonia treatment;
GRIGO Bog Oak produced under a unique patent pending, 100% environmentally friendly technology - and letting us in much shorter period of time (from one to six months) to replicate that natural process which affects logs of bog oak, lying under the water for thousands of years.
GRIGO Bog Oak wood is similar to the naturally found bog oak material. Patented GRIGO Bog Oak manufacturing technology doesn't use any paint, ammonia, or other chemicals -we are using only materials, naturally found in nature.
Rich color palette. Manufacturing process let's us to control the achieved colors palette of the wood. All of the shades correspond the coloring of the naturally found bog oak: inky black (anthracite), black, ashy gray, straw brown, etc.
100% natural bog oak wood and veneer. Manufactured without using any chemical paints or ammonia.
Environmentally friendly technology and product. 100% natural wood treatment process. No pollutants used and left in the final product.
Exceptional durability. Significantly higher density and other physical characteristics makes wood more resistant to friction, wear and tear than ordinary oak wood.
GRIGO Bog Oak qualifies as a luxury product and because of it's features, it is an excellent choice for using in flooring, furniture, high end acoustic system casings (speakers, amplifiers, etc.), luxury car interiors and for other similar purposes.